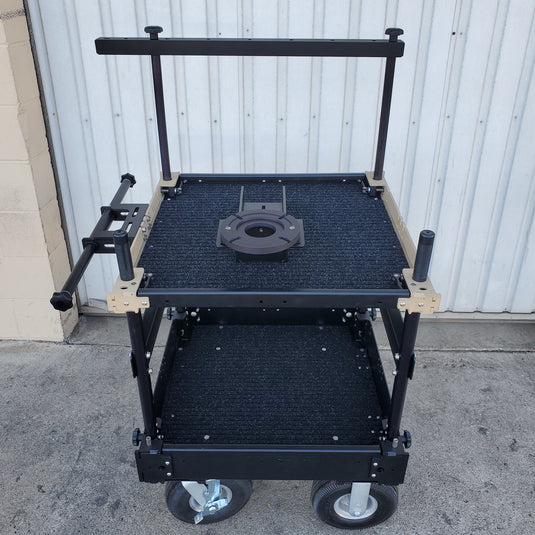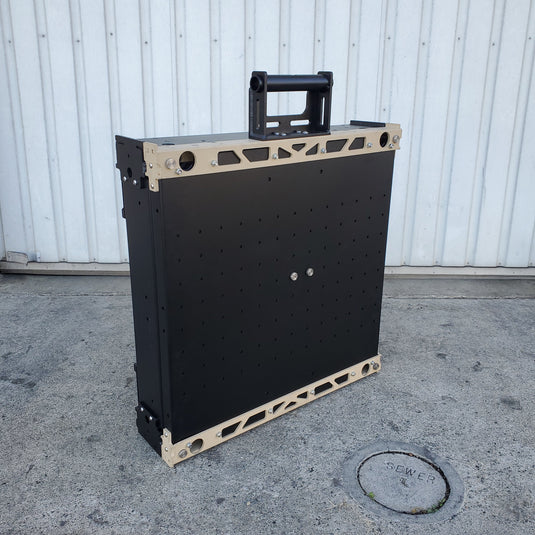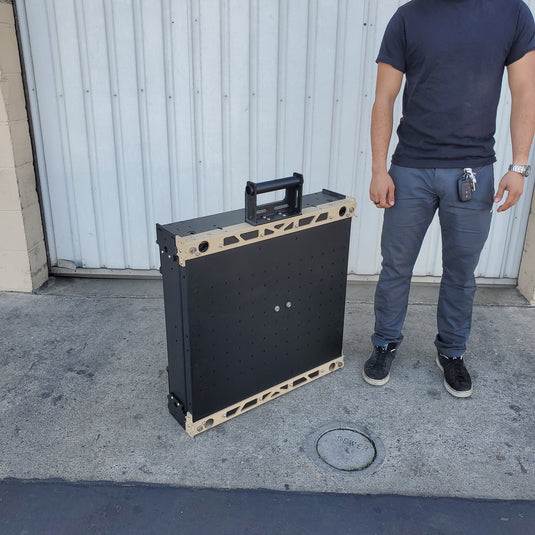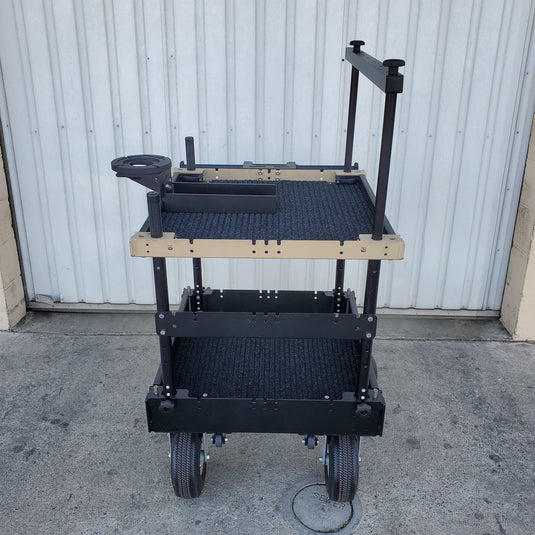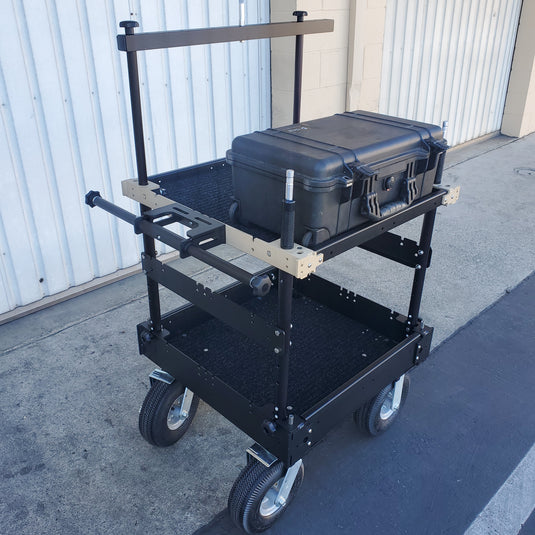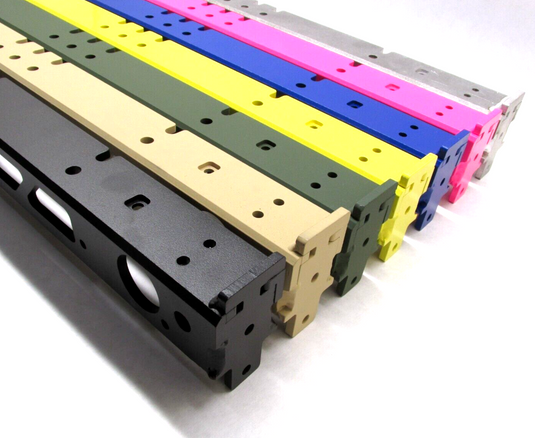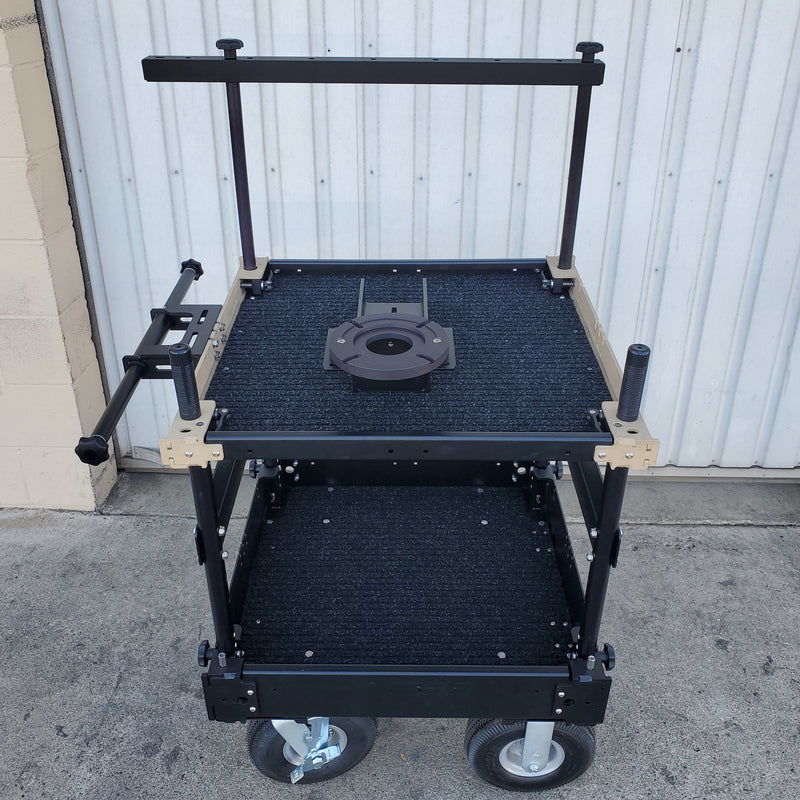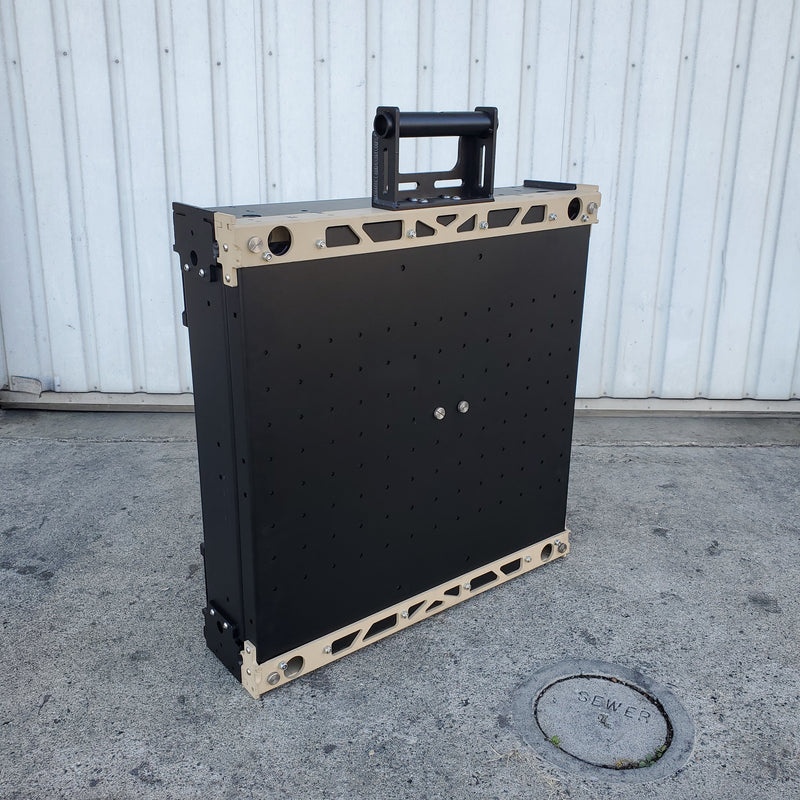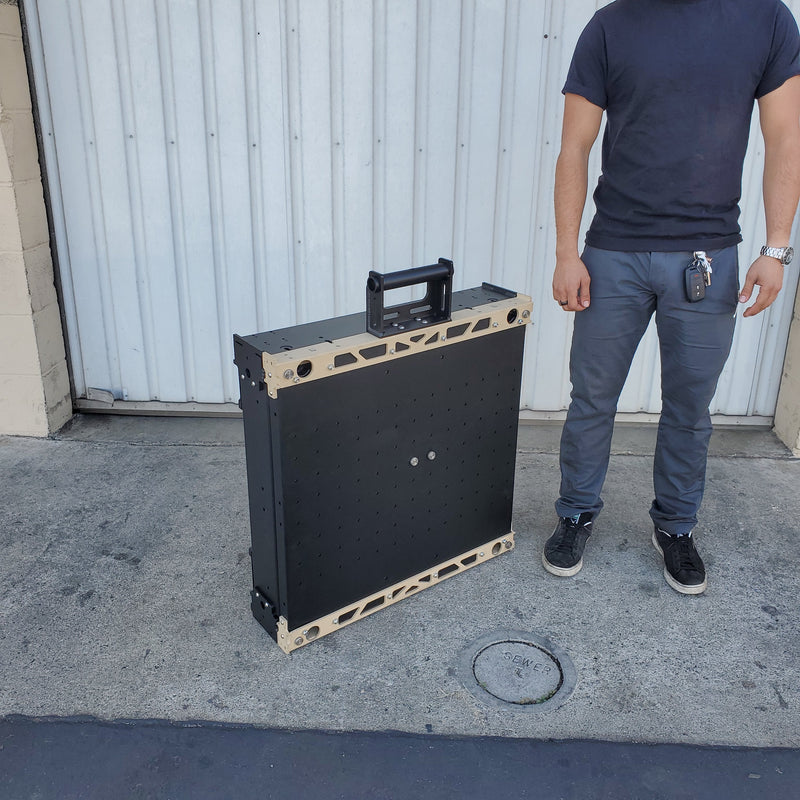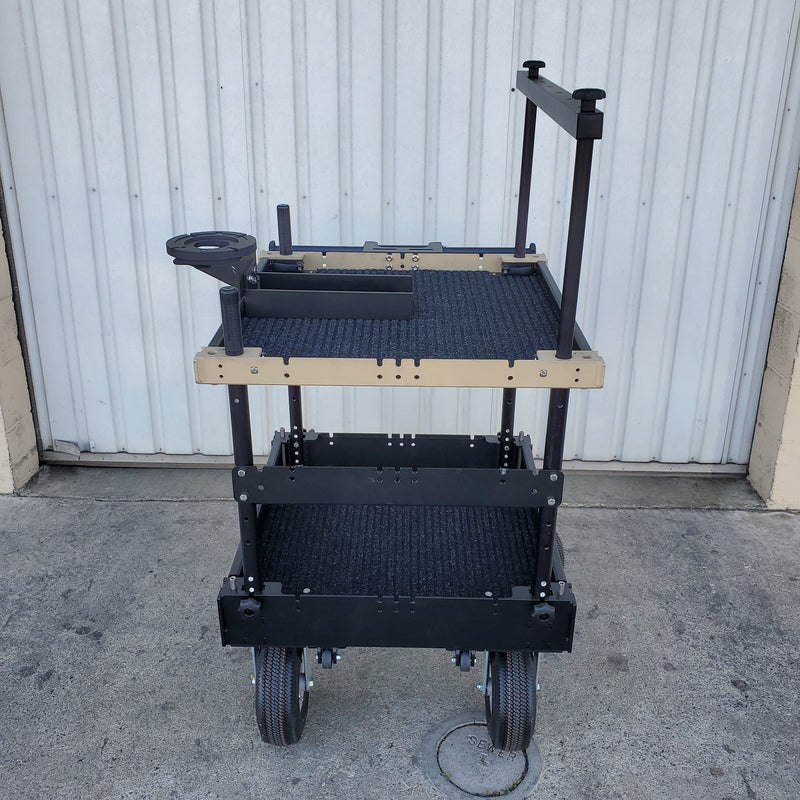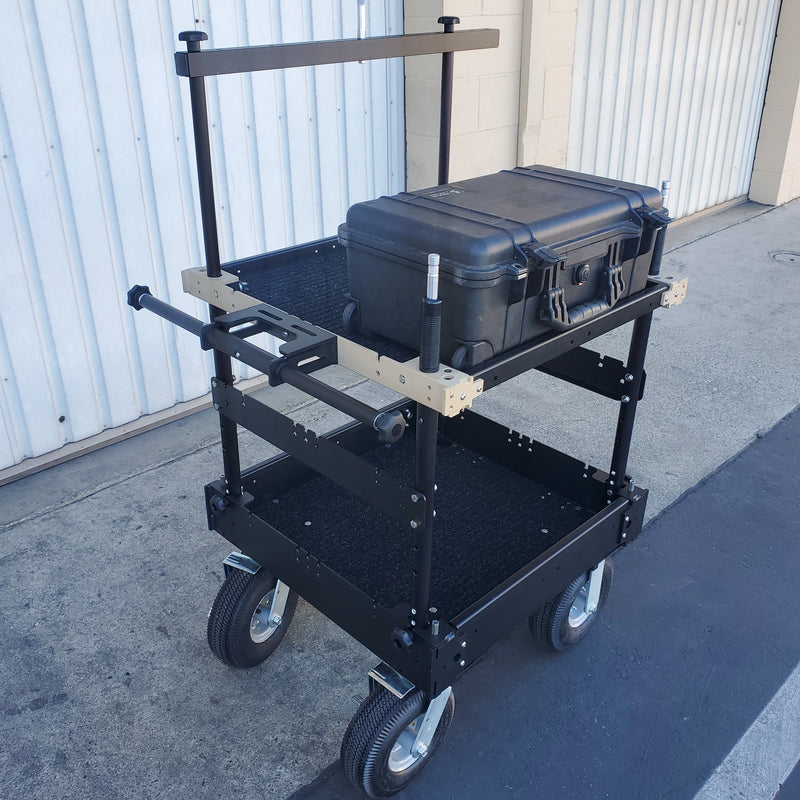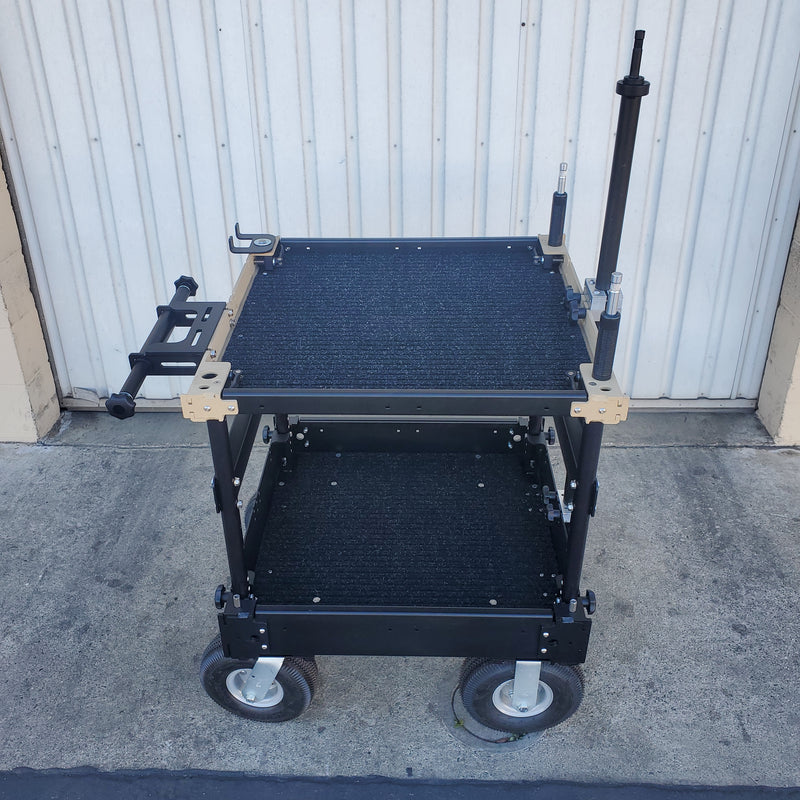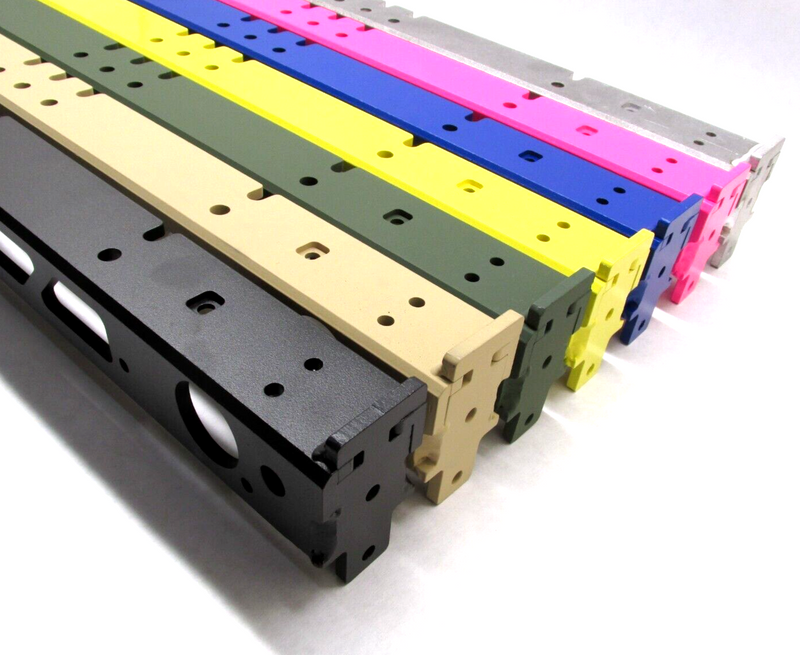 This is the base YaegerCube Cart, accessorize it to your needs.
Decsription
This is the base YaegerCube Cart, accessorize it to your needs.
The YaegerCube is utilizes all the amazing & rugged features of the YaegerPro, but is 27" by 27" for a very small footprint for DIT, monitors, wheel controls and more.  Very few vertical carts have the ability to fold up in a shippable and self contained case. 
Specs:
Overall Concept - Fully vs Partially Collapsible:
Our goal was to create a cart that was perfect for someone looking an economical solution or all the bells and whistles.
As the industry evolves, sprinter vans are becoming more and more common.  In designing the YaegerPro, we were very cognoscente of creating a cart that met people's individual needs and quite honestly, some people don't need a cart that fully breaks down.  So the base cart's casters are bolted to the 1/4" aluminum lower channels, which means, you cut the cost of the caster clips and travel wheels. But lets say you book a travel gig in which you'll need to bring your cart.  You can buy the easily installed Removable Caster Kit making your cart fully collapsible.
Included - YaegerCube End Channels:
The fortified 6061 aluminum end channels provide all the features that make this cart a must have addition to your workflow. 
Tank-like corners will leave you as worry free as possible when traveling, and are the basis for many features including:

Built in travel posts
Leg pivoting slots
Accessory and leg clamps
Mast and accessory quick dock slots
Caster stability
Optional Caster storage docks
and more.
Included -
 

YaegerCube Fold Flat Legs:
A simple system that allows the cart to fold quickly and compactly with a limited amount of parts. The slotted pivot points are a completely new concept that allow the pivot point to move up to accommodate the opposing legs underneath them.
When unfolding the legs, simply lift the legs evenly and drop the knob into the rear slots and tighten the knobs creating one of the strongest folding carts on the market. 
Included -
 

YaegerCube Corner Locks:
A quick release handle now locks your legs and your accessories with this clever clamp.  Build out your workflow with confidence 
Included YaegerCube Travel Posts:
With built in travel posts, making quick trips have never been easier than ever.  The spring loaded knobs are permanently attached to the upper shelf leaving no spare parts to get lost.
 *Tools are not required for normal folding, but may be needed to move mid bars and other fine tuning while finding their respective optimal permanent positions.